Beskrivelse

 FEIT POMPE PVM 0.16 I 24 VOLT
Serien elektrisk PVM, har den spesielle egenskap av å ikke tette selv ved pumping av væsker som inneholder faste urenheter som: SAND, Slush, SOIL, arkivering og metallspon, smergel, slam, SEMI, sigarettstumper, alger, hår, bomull,
Den membranpumpe kan også betraktes som universal pumpe, enkel bevegelse av membranen, gir opphav til de trinn at innløp og utløp. Det er så delikate organer som for eksempel løpehjul, pakninger, mekaniske tetninger, tilbakeslagsventiler, etc..
Varigheten av en membranpumpe er av disse grunner nesten ubegrenset.
Viktige fordeler:
Selvsugende uten fylling av pumpehuset
Krever ikke en bunnventil eller silen
Motstandsdyktig mot korrosjon
Kjøres tørr uten skader
Visshet av drift selv etter lange perioder med inaktivitet
PVM serien pumper er tilgjengelige i fem modeller med de samme bygge funksjoner og forskjellige fordeler som angitt i tabellen.
Type

Motore Hp (Kw)

Volt

Kap. l/min'

Løftehøyde

Sug høyde

PVM 0.16

0.3 (0.2)

Volt 12/24 c.c

25

5 m

3 m

PVM 0.2

0.35 (0.26)

Volt 12/24 c.c.
Volt 230 enfase
Volt 230/400 trefase

30

5 m

3 m

PVM 0.5

0.5 (0.37)

70

5 m

3 m

PVM 0.5 B

0.5 (0.37)

70

5 m

3 m

PVM 1

0.75 (0.55)

Volt 24 c.c.
Volt 230 enfase
Volt 230/400 trefase

120

7 m

4 m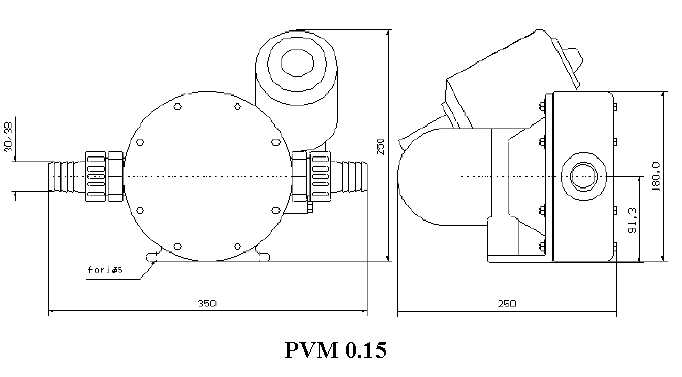 CHARACTERISTICS
– Immediate self-priming without need for pre-filling pump body.
– Maximum reliability of operation, even following inactivity for lengthy periods.
– Requires no foot valve, or filter.
– Operating lever removable from its housing.
– Ease of control and inspection of valves without using tools.
– No maintenance required
– Easy to disassemble.
The Electric Diaphragm Pump Serie PVM has the special advantages of not clogging even when liquids containing particles of solid matter in suspension are pumped through it, including: SAND, MUD, BRIK RUBBISH, GRINDING DUST, SAW DUST, SEEDS, SLUDGE, SEA WEEDS, HAIRS, COTTON, ETC.
The Diaphragm Pump can be considered a universal pump, as the simple movement of the diaphragm creates the suction and the delivery, therefore there are no delicate parts, such as impellers, mechanical seals, foot valves,etc.,
Consequently it can last almost indefinitely.
MATERIAL OF COSTRUCTION
Body
Motor support
Membrana
Valvole
Viteria
PVM 0.16
PVC
Aluminum
NBR reinforced
NBR reinforced
stainless steel
PVM 0.2
PVM 0.5
PVM 0.5B
Bronze
PVM 1R
PVC
PVM 1
PVM PUMPS ARE PARTICULARYSUITABLE FOR :
– Seawater, bilge of amphibian vehicles and crafts.
– Decanting fuels usually: petrol, diesel, kerosene, oil, naphtha , fluid oils, etc.
– Draining of basements, underground passages, drains for electrical and phone cables.
– Draining water, rainwater, muddy waters, slimy and sandy waters.
– Supplying fresh water for caravans, crafts, and concrete mixers.
– Draining of coolants from machine tools, also containing filings, and emery shavings, saw dust, etc.
– Laundry drains, wells for sewage, septic tanks.
– Transferring coolants, disinfectants,weed killers, etc.
 TECHNICAL DATA
Type

Kw

VOLT

Rmp

Capacity

L/min

Pressure

m

PVM 0.16

0,20

  12-24

1300

26

5

PVM0.2

0,26

  12-24//230 1Ph-230/3803Ph

1450

31

6

PVM05

 0,37

75

8

PVM 0.5B

0,37

77

PVM 1R

0,37

  24//230 1Ph-230/3803Ph

100

PVM1

0,55

120

9
PERFORMANCE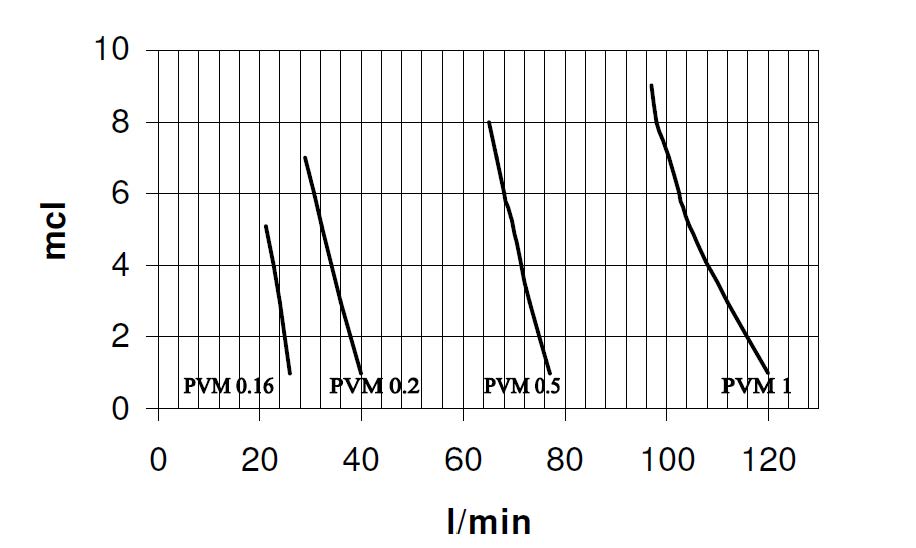 DIMENSIONS
| | | | | | |
| --- | --- | --- | --- | --- | --- |
| TYPE | D | H | R | L | weight (Kg) |
| PVM0.2 | 38 | 280 | 200 | 380 | 10 |
| PVM0.5 | 40 | 340 | 250 | 470 | 18 |
| PVM0.5B | 40 | 340 | 250 | 480 | 28 |
| PVM1R | 40-45 | 400 | 300 | 580 | 22 |
| PVM1 | 45 | 420 | 300 | 580 | 24 |