Beskrivelse

 FEIT POMPE AT SERIE  1 – 18 kW
BILGE – FIREFIGHTING PUMPS
Price example on 1 kW pump in 24 Volts.  Please ask for price on the rest of the AT Serie.
CONSTRUCTION: Multi-stage self-priming pumps use the sidechannel design principle. The pumps are of sectional construction with the intermediate sections arranged in series between suction and discharge casings and fastened by means of tie bolts. The pump stages are staggered radially to bring about balance and minimize shaftdeflections. The open "star" type impellers are individually hydraulically balanced thus eliminating the axial thrust on theexternal ball bearings of the pump. The number of the impellersor stages varies directly with the total head requirements.
CHARACTERISTICS
-Capability of handling entrained liquids under continuous operating conditions.
-Suction up to 7 m.
-Foot valve not required.
-Elimination of load on bearings because the impellers are hydraulically self balanced.
-Quiet operation and minimal vibration.
-Combination of different types of materials
-Functionality and versatility based on a well balanced and compact design.
performance at 1450 rpm
Tipo
Kw
Volt
Q (L/1')
20
40
60
80
100
120
140
160
180
200
230
260
300
330
350
400
450
500
550
600
Type
Mc/h
1.02
2.04
3.06
4.08
6
7.02
8.04
9.06
10.08
12
13.08
15.06
18
19.08
21
24
27
30
33
36
AT 3/1
1.1
24 cc 230M-230/400T
H(m)
40
28
23
18
12
3
AT 3/2
2.2
75
54
36
14
10
AT3/11
1.5
25
19
12
6
3
AT3/12
2.2
40
24
13
7
4
AT3/13
3
77
61
40
20
8
AT 4/1
2.2
33
32
22
19
12
7
AT 4/2
4
62
51
42
32
24
13
AT 4/3
5.5
230/400T
100
77
67
50
30
22
AT 5/1
4
24cc 230M-230400T
35
32
29
25
19
15
11
AT 5/2
11
230M-400T
73
68
60
50
40
30
25
AT 5/3
15
115
103
82
61
41
39
30
AT 6/1
7.5
37
35
31
28
19
18
11
8
AT 6/2
11
75
70
65
51
39
34
21
15
AT 6/3
18.5
115
110
96
83
59
47
30
18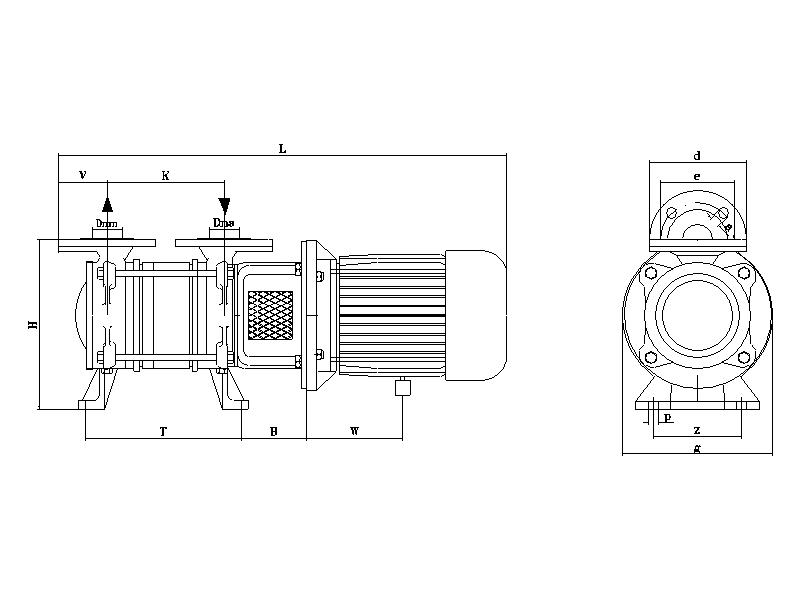 Dimensions and weight
| | | | | | | | | | | | | | | | |
| --- | --- | --- | --- | --- | --- | --- | --- | --- | --- | --- | --- | --- | --- | --- | --- |
| Tipo | Dn | H | V | K | L | T | B | W | d | e | a | p | z | g | Kg |
| AT 3/1 | 32 | 255 | 70 | 150 | 690 | 200 | 140 | 150 | 140 | 100 | 18 | 14 | 130 | 200 | 50 |
| AT3/2 | 32 | 255 | 70 | 180 | 780 | 250 | 140 | 150 | 140 | 100 | 18 | 14 | 130 | 200 | 60 |
| AT3/11 | 32 | 255 | 70 | 150 | 690 | 200 | 140 | 150 | 140 | 100 | 18 | 14 | 130 | 200 | 50 |
| AT3/12 | 32 | 255 | 70 | 180 | 780 | 250 | 140 | 150 | 140 | 100 | 18 | 14 | 130 | 200 | 60 |
| AT3/13 | 32 | 255 | 70 | 210 | 830 | 280 | 140 | 150 | 140 | 100 | 18 | 14 | 130 | 250 | 68 |
| AT 4/1 | 40 | 260 | 75 | 160 | 910 | 230 | 160 | 173 | 150 | 110 | 18 | 16 | 150 | 250 | 72 |
| AT 4/2 | 40 | 260 | 75 | 207 | 980 | 265 | 160 | 173 | 150 | 110 | 18 | 16 | 150 | 300 | 82 |
| AT 4/3 | 40 | 260 | 75 | 262 | 1000 | 330 | 160 | 173 | 150 | 110 | 18 | 16 | 150 | 300 | 100 |
| AT 5/1 | 50 | 320 | 83 | 180 | 900 | 260 | 160 | 173 | 165 | 125 | 18 | 16 | 150 | 300 | 85 |
| AT 5/2 | 50 | 320 | 83 | 250 | 1100 | 340 | 160 | 173 | 165 | 125 | 18 | 16 | 150 | 350 | 120 |
| AT 5/3 | 50 | 320 | 83 | 330 | 1200 | 415 | 160 | 183 | 165 | 125 | 18 | 16 | 150 | 350 | 150 |
| AT 6/1 | 65 | 360 | 93 | 190 | 1000 | 270 | 180 | 200 | 185 | 145 | 18 | 16 | 198 | 350 | 120 |
| AT 6/2 | 65 | 360 | 93 | 280 | 1100 | 360 | 180 | 200 | 185 | 145 | 18 | 16 | 198 | 400 | 140 |
| AT 6/3 | 65 | 360 | 93 | 370 | 1300 | 450 | 180 | 200 | 185 | 145 | 18 | 16 | 198 | 400 | 170 |
Material  of construction
Body :bronze
Impeller/s : bronze
shaft: stainless steel
Diffuser : bronze
Shaft: stainless steel
Mechanical seal
Special execution :
execution in Aluminium
execution in cast iron
Different voltage