Oppgrader til GS Serie
gS SERIEN. Glass Bridge
Multifunksjon på sitt ypperste.
Elegant, fleksibel og enkel i bruk. gS serien vil gi din båt en styreposisjon som oser av kvalitet med masser av kraft til å bistå deg med navigasjonen. Hvert gS display er i tillegg til å være en nettverksstasjon også etn individuell stasjon med egen prossessorenhet innebygget. Her finner du dual-core prosessor og separat grafikkprosessor som gir masser av kraft og hurtighet.
Hva kan vi gjøre dor deg?
Pris på oppgradering av aller plotterne
Tilbud på nye plottere og HD Color radar
Nytt alt sammen?
Vinnende ekkolodd
Legg til en Raymarine Chirp ekkoloddmodul og se hva skjuler. Med CHIRP DownVision teknologi vil du se bunn og fisk som du aldri har sett det før.
Forbedret situasjonsoversikt
gS serien kombinerer bruken av Raymarine radar, AIS og termisk nattkamera for øke din sikkerhet under vanskelige forhold. AIS-målene vist direkte i kart og radabilde og MARPHA målfølging holder orden på hvor du har andre fartøy. Med Slew-to-Cue funksjonen følger det termiske kameraet potesieller farer, enten det er fartøyer eller f.eks. bøyer eller sjømerker.
INFORMASJONSSENTRAL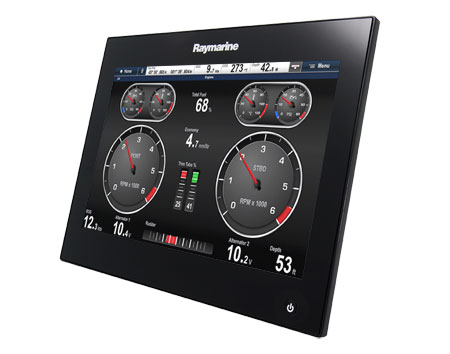 Gs Serien gir deg mulighet til å se og holde øye med en rekke ulike data som kurs, dybde , vind .. ved å sette gS serein i NMEA 2000 netverket kan du hente ut og vise data fra en rekke sensorer inkludert motordata og drivstoff forbruk. For motorer som ikke har NMEA 2000, men J1939, kan du benytte Raymarines ECI-100 universale motor og styrings interface for å koble disse inn i nettverket.
____________________________________________________________________
gS Series Features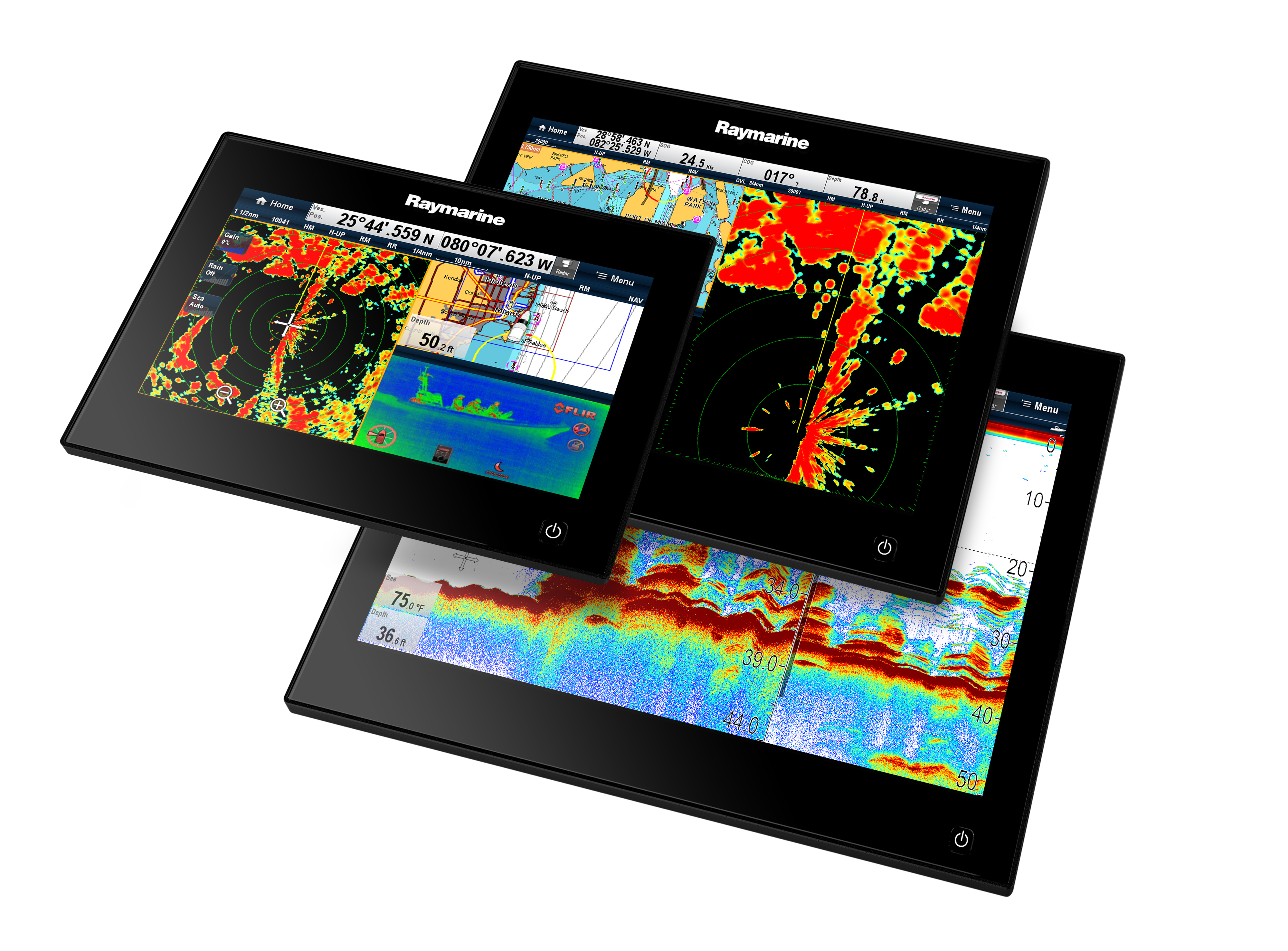 Simple Operation and Total Control
Welcome to Glass Bridge, Raymarine's premier network navigation system. The edge-to-edge glass construction of gS Series enables the displays to be completely flush-mounted in the helm panel for an attractive and integrated navigation experience.
Navigating with gS Series is incredibly simple with the smooth and responsive multi-touch control of Raymarine's LightHouse user interface.

Enjoy full touch screen interaction with multi-touch control, including pinch to zoom chart controls.
---
Optional remote keypad and microSD card readerThe optional remote keypad gives you full control of single or multiple gS Series displays from a remote location.The keypad can be used in portrait or landscape orientation and is fully waterproof to IPX6 and IPX7 standards

.

 

Each gS Series display is supplied with a fully-waterproof remote dual microSD memory card reader for Navionics charts, software updates and data back up.

Cartography can be shared across networked displays from a single card reader.

 
---
Mobile Apps

Access Raymarine anywhere onboard via Raymarine mobile apps and gS Series built in Wi-Fi. Enjoy full control of your gS Series direct from your tablet or smart phone using Raymarine's RayControl or RayRemote mobile apps.

Sport Optic Friendly LCD

gS Series displays are engineered with unique LCD technology that eliminates the «black out effect» caused by polarised sport sunglasses.

 
---
   Glass Bridge Connectivity

3 Raynet waterproof network ports with POE (Power Over Ethernet)
Video support for video-over-IP cameras
NMEA2000 Networking via Raymarine's SeaTalkng cabling system
HDMI output for remote monitors or LCD TV connection
2 composite video input ports (BNC)
WiFi and Bluetooth support
External alarm connection